Play Now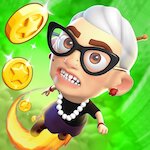 In Angry Gran Jump Up, meet the grumpy and energetic old lady! This Granny is easily annoyed, and the kids around the block made her furious. Join her in this fun and addictive game, and put her energy into good use! Can you show those spoiled kids that despite her elderly age, the Gran can be as active as the youth?
Your objective in this game is simple. All you have to do is to travel as high as you can to earn a high score. Click on the screen on the main menu to start the game. You can control your character with the left and the right arrow keys. Gran will jump automatically, so make sure she lands on platforms. Collecting coins will also send you up, and these can be used to upgrade the effectiveness of the different power-ups you can use. But watch out! These kids seem to enjoy annoying Gran, and they'll appear on platforms as obstacles. Jumping on their head will remove them, but try not to touch them from the sides. In addition to your main goal, there are also missions you can complete. From collecting a certain amount of coins in a run to defeating several enemies, these can vary. Upon completing these missions, you'll be awarded coins. Good luck and have fun!
Do you need more fun challenges in your life? Then go ahead and browse our collection of free and online action games by clicking here. Enjoy!
Developer
Ace Viral developed Angry Gran Jump.
Features
Colorful graphics
Intuitive controls
6 different power-ups to collect and upgrade
Entertaining and addictive gameplay
Different missions to complete
Controls
Use the left and the right arrow keys to control Granny.