Play Now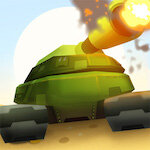 In Armored Blaster, the battle is heating up and you seem just like the person to put an end to it all and stop the enemy invasion! The tanks of your enemies have invaded your land and only you can stop this madness! So, get ready for combat! Tanks, weapons, and explosions await you in this game. Can you survive through the challenging levels of this game?
You're at the point of no return now and the battle is at your doorstep. Go into battle now and give your enemies what they deserve! The objective of this game is to complete each level by destroying the enemy tanks and the machine that allows them to teleport. The controls are pretty simple! Use WASD to move around and shoot using the left mouse button. You'll face many opponents in each level so it's important to dodge their attacks. Try to avoid them by moving around and use the walls you see around as protection. Collect all the coins you see on the ground to upgrade your arsenal. You'll also see power-ups hidden in boxes in each level. Hit the boxes and find the power-ups you can use! The game will get more difficult in each level so try to develop a strategic plan and keep your powder dry. 18 levels of fun await you! Do you think you'll be able to be the master of this game?
If you want to check more titles like this one, be sure to browse our collection of online and free action games by clicking here. Enjoy!
Release Date
May, 2018.
Features
18 levels to complete
Upgrades to buy
Intuitive controls
Nice 2D graphics
Controls
WASD to move around. Left mouse button to shoot.