Play Now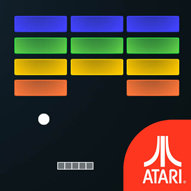 With Atari Breakout, we are going back to the old times to play a legendary retro game! This is the new version of the classical arcade game Breakout! The goal is simple but challenging, you need to bat the ball at the colorful blocks until there aren't left any! Good luck!
Atari Breakout is a retro arcade game produced in 1976, influenced by the success of the groundbreaking 1972 game, Pong. Many versions of Breakout have appeared since the original game and this is the last one, the online version of it. So, the objective is simple, you just need to destroy all the colored blocks by throwing the balls. But the difficult part is that the balls may pass your paddle and if you lose both of them, the game is over. You lose a turn when the ball touches the bottom of the screen; to prevent this from happening, you have a horizontally movable paddle to bounce the ball upward. You can see your remaining lives in the bottom left of your screen. Once you run out of lives, you have to start the game again. There are 5 different modes of the game: single, double, random, cavity, and progressive. As it is getting harder, it will be getting harder to control the ball because it moves faster. To continue playing, you should keep an eye on your ball and get lined up for the next shot. Have fun!
If you want to play more retro Atari games and try similar one to Atari Breakout, don't forget to check Atari Pong, too.
Developer
Atari developed Atari Breakout.
Release Date
February 10, 2021
Features
Retro arcade game
2D colorful graphics
Entertaining and challenging gameplay
Increasing difficulty
Controls
You can use your mouse to play this game.