Play Now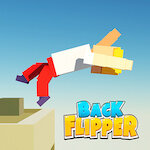 In Backflipper, it's time to have some fun! Climb to the building tops and start performing amazing backflip tricks to earn points and show how much of a daredevil you are. Do you have what it takes to complete all the challenging levels?
It seems like a nice day to jump off of great heights and perform tricks. Your objective in this game is to complete each level by landing safely on each platform after performing a backflip. You can play the game with your mouse so click on the play button on the main menu to start. When you enter a level, your character will wait for your command to jump. Click on the screen to make them jump and perform a backflip. Click again and hold to land. You must land on your feet to be successful. Landing on your face, back, or other parts of your body will make you lose, so be careful with the timing of your moves. Collect as many coins as you can on each level. These can be used to unlock new characters from the in-game shop. When you complete a level, you'll unlock the next one. This game features 8 different levels. Each level will take you to different places with different challenges. Good luck and have fun playing!
Looking for another game to challenge yourself? Then look no further, because Shift Run is here! Can you complete each level in this fun game without falling over? Enjoy!
Developer
MotionVolt Games developed Backflipper.
Features
Colorful 3D graphics
8 different levels
15 different unlockable characters
Intuitive controls
Entertaining gameplay
Controls
You can use your mouse to play this game.