Play Now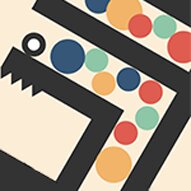 Ball Maze combines skill and puzzle experiences into one game! With this fantastic game, you can quickly free your thoughts and train your brain. Move the ball around the maze and explode the balloons! It's like having the finest of three worlds! You'll be hooked to the screen for hours on end because of the easy gameplay and controls. Are you ready to enter this crazy maze? Then it's time to start playing!
Prepare for a one-of-a-kind puzzle adventure in one of the most fascinating mazes! This maze may be turned around! What could be more fascinating than that? Your goal in this entertaining ball-themed puzzle game is to pop all of the balloons. These balloons may be as bright as your personality, but they must be smashed! By moving your mouse or swiping your finger, you'll be able to rotate the maze. That's how the balloons and your ball will move about. The balloons explode when the ball touches them. As you progress through the game, you will come across various obstacles such as traps. You must restart your current level from the beginning if you touch any of these obstacles. Maintain your patience and rotate the maze until there are no more balloons! Good luck and have a good time!
Do you want to play more games like this one? If so, take the different challenges in our collection of free and online puzzle games.
Developer
QkyGames developed Ball Maze.
Release Date
July 27, 2021
Features
2D colorful graphics
Several levels to complete
Ball-themed puzzle game
Fun and engaging gameplay
Controls
You can use your mouse or touch controls to play this game.