Play Now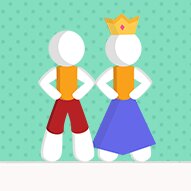 With Tower Run, get ready to save the princess! This time you are not the prince charming who rides a horse, but the prince cool who rides the balls! The best heroes are deal with the worst troubles. You are in a maze, and you need to find your one true love to save her. How will you move towards her? Of course, on these fast balls can take you wherever you go! So, let's take the path now!
What kind of a hero will you be? Will you let your princess down or save her from this nightmare at any cost? We guess you'll figure it out in a moment! In this fun 3D skill game, your objective is to reach the finishing spot where your princess is waiting for you. Click or tap on the screen to create the yellow balls that help you reach the finish spot. If you hit the walls, you fail, and the game is over. Don't worry, though! You can continue playing from where you left. You just restart from your current level. When your character hits a wall through the balls, it changes direction. You should use strategies to complete all the levels and finish this fun game. Else what the heroes are for, right? If you are ready now, let this adventure begins!
Don't leave us yet! Be sure to check our collection of online and free skill games to browse more fun titles like this game.
Developer
DRA developed Tower Run.
Release Date
July 2, 2021
Features
3D colorful graphics
Dozens of levels to complete
Cute backstory and characters
Fun and engaging gameplay
Controls
You can use your mouse or finger to play this game.