Play Now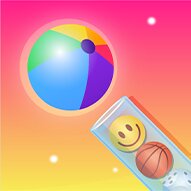 In Balls Sorted, you are a laboratory worker who sorts the balls out! You are a scientist and for a new kind of experiment in this adventure. To achieve your goal, you should categorize all these colorful balls into tubes. If you fail, you can blow the whole laboratory up! That is why you should be calm and solve this puzzle correctly. If you are ready, let's see where you will end up with this experiment!
A fun and colorful adventure is waiting for you here. These balls need to be sorted as soon as possible. If not, everything you have done for science will be for nothing. So, click on the play button to start the game! Your objective is to categorize the same kind of cubes into tubes. In the beginning, the balls will be mixed into multiple tubes. Click on a tube to place the ball situated at the top to another tube. When you select a ball, click on the tube that you want to put it into. The last ball in the second tube should be the same type of ball that you selected. When you sort all of them out, you can move on to the following level. As you proceed in the game, the puzzles will become more difficult to solve. Good luck and have fun!
Be sure to check our collection of free and online puzzle games by clicking here if you are up for browsing more fun titles like this game.
Developer
Justforward developed Balls Sorted.
Release Date
June 23, 2021
Features
2D colorful graphics
Several challenging levels to complete
Simple controls
Entertaining and addictive gameplay
Controls
You can use your mouse or finger to play this game.