Play Now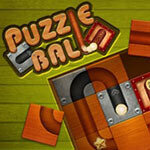 In Puzzle Ball, hours of fun full of creativity is waiting for you! This is a fun sliding blocks puzzle game that you should make the ball reach the goal. With featuring several challenging levels and various blocks, this game will stretch your imagination. You can create dozens of combinations and find only one best option! Now, let's see if you can reach the perfect one and collect all the stars!
The only thing you need to play this game is your mouse being controlled by a brilliant brain! The objective of this game is to create a track for the ball to reach the goal. You can make various correct combinations for the track. But you should aim to collect all 3 stars on the way. To start the game, first, click on the play button. Then you will see all 48 levels to select. You can open any of them to begin, you don't need to follow the difficulty level. However, as the numbers increase, the difficulty of the levels will be increasing as well. If you get stuck, you can use your hints, situated at the bottom of the screen. You can also restart that level if you are too lazy to replace the blocks already moved. Undo your move as many times as you want and make the ball go forward faster from the button at the bottom. Good luck!
If you want to play with more blocks in another type of puzzle games, then be sure to check 10x10.
Developer
MarketJS developed Puzzle Ball.
Release Date
March 27, 2018
Features
3D colorful graphics
48 unique levels
Intuitive controls
Entertaining and addictive gameplay
Controls
You can play this game with your mouse.