Play Now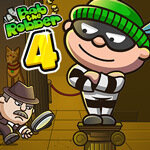 In Bob the Robber 4, our talented thief decided to visit the city of romance, Paris. Apart from having amazing landmarks such as the Eiffel Tower, there are very profitable opportunities for Bob. He decided to take some souvenirs back home, and the local art museum is just the place for that. Can you help Bob through various levels?
Admiring art and wanting some of the best pieces for yourself is not a crime! At least that's what Bob is thinking as he puts on his mask and makes his way to the museum. On the 4th adventure of this sneaky thief, your objective is to collect each treasure on every level without getting caught. With so many valuable art pieces, it's not uncommon to expect different security measures in this museum. Through 15 levels filled with various puzzles and obstacles, you should stay silent and hidden! There are security cameras around every corner, and the guards are patrolling the halls. You can hide in the shadows to avoid getting detected or knock the guards unconscious. In addition to the treasures, you can also find hidden cash in each level. Good luck and don't get caught!
Head into the next adventure of this amazing thief in the 5th installment of the series, Bob the Robber 5: Temple Adventure! Have fun!
Developer
Kizi developed this game.
Release Date
July 2017
Features
Many entertaining levels to complete
Challenging puzzles to solve
Stealthy gameplay
Colorful 2D graphics
Intuitive controls
Controls
Use arrow keys to play the game.