Bob The Robber 5: Temple Adventure
Play Now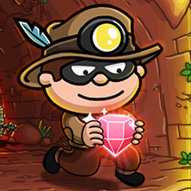 In Bob the Robber 5: Temple Adventure, our talented and sneaky thief character found an ancient map. While he's used to breaking into homes of the living, a change of pace in his career would surely be beneficial. With the residents of this secret and hidden temple reduced to ash and bones, Bob thinks there'll be no one to stop him. It's not stealing if they're dead, right?!
Picking locks is one thing, but can Bob overcome the different challenges waiting for him in these long-forgotten halls? Your objective in this game is to complete all the levels by solving puzzles and collecting valuables. Featuring 10 different levels, this game will surely test your and Bob's skill. You can use the arrow keys to control Bob. This temple might be lacking security cameras or guards, but there are other things you should be careful about. With traps and dangerous denizens like mummies, witch doctors, and guardians you should be prepared. On each level, you can find hidden gold coins. When you stand near it, Bob will tell you and you can collect these with the UP arrow key. There are many puzzles to solve! Some traps require certain gadgets to be disabled and you need a passcode to unlock some doors. Good luck!
For more games like this, be sure to check our collection of free and online action games! Have fun!
Developer
Funtomic developed Bob the Robber 5: Temple Adventure.
Release Date
September 2018
Features
A new temple zone
Unique enemies
2D graphics
10 challenging levels
Controls
Use arrow keys to play the game.