Play Now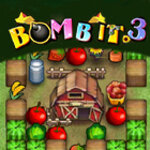 Bomb It 3 brings back the explosive fun to your screen, and you should be ready to face your opponents once again in this series. Featuring 4 different game modes and competitive gameplay mechanics, do you have what it takes to be the last one standing in this challenging game?
Who needs guns when you can make some noise? Each game mode has its own objective, so there's much to accomplish in this game! The first mode is the classic Arcade, in which your goal is to kill all your enemies. The second mode is the Battle Royale, and things will get heated as you try to be the first player to kill 10 enemies. Watermania is the third mode, and your objective here is to push either 10 sheep or enemies off the map. Lastly, there's the Race Mode. You try to finish 3 laps first to win the game in this mode. You can begin the game by clicking the start button on the main menu. On the next screen, you can select one of the 4 modes and adjust the game settings as you like.
Bombs, guns, and vicious foes are waiting you in our collection of online and free action games! Enjoy!
Developer
Spil Games developed this game.
Release Date
November 2010
Features
10 playable characters
4 game modes to play
Can play against 4 players
Addictive gameplay
Colorful 2D graphics
Intuitive controls
Controls
In one-player mode, use the arrow keys to move and the space bar key to place a bomb. In 2-player mode, use the WASD keys to move and the space bar key to place a bomb as the player 1. Use the arrow keys to move and the ENTER key to place a bomb as the player 2.