Play Now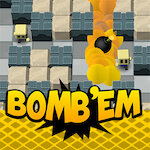 In BombEm, get ready to cover your ears, because there'll be so many explosions! Are you prepared to show your opponents that you're the most destructive player? If so, get ready to place bombs and try your best to reach the top of the leaderboard! Enjoy!
Why shoot your rivals when you can blow them up? That's what you'll be doing in this competitive and challenging online multiplayer game. Your objective is simple! All you should do is to kill all your enemies with your bombs and be the last one standing to win. You can control your character with the WASD or the arrow keys. The blue blocks on the map are indestructible, but you can destroy the rocks! To do that, place a bomb near them and run away! As you break rocks, there's a chance for a power-up to appear. From a speed boost to an extra bomb, these are very helpful. Watch out for other players! Just like you, they're also playing to win. They are not the only danger you should avoid. Try not to get caught in your bomb's explosion, or you'll die. Can you defeat all your rivals and win each match to prove you're the best?
Whether you're looking for explosive fun or challenging missions, we have all you need in our collection of online and free action games collection. Start browsing now and enjoy!
Developer
DAB3 Games developed Bombem.
Release Date
January 15, 2018
Features
Colorful 3D graphics
Different power-ups to collect
Online multiplayer gameplay
Intuitive controls
Entertaining and addictive gameplay
Controls
You can use the WASD or the arrow keys to move around. Press the SPACE BAR to drop a bomb.