Play Now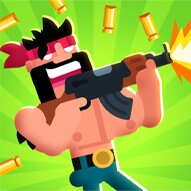 Use master-level strategies, take advantage of your surroundings under any circumstances, and dominate your enemies with Gun Guys! What do you do when you are left alone with limited bullets against a whole army? Find ways to shoot more enemies with less ammo, of course!
Imagine a world where bullets bounce off the walls and pierce through rows of enemies. There is no such thing as impossible in this world of deadly puzzles! Follow the orders and come up with creative ways to execute your enemies with the limited ammo you have. Activate traps, use bouncy bullets, and drop heavy objects on your victims to pass levels. You can see the bullets in your inventory above. Using the golden bullets is optional, however, how many blue bullets you have left at the end of the level affects the stars you get from that stage. Spend as little as possible to maximize your earnings. Use your gold to spin the lucky wheel and unlock new items. You can stop by the shop to check out skins and unlockable weapons waiting for you. Complete all six hundred levels of challenging puzzles, follow the story chapter by chapter, and return home with another victory!
If you like this shooting puzzle, you can check out Noob Vs Pro 4 Lucky Block and follow the main story, or try additional modes and shoot zombies.
Developer
Simplicity Games developed Gun Guys.
Release Date
May 19, 2022
Features
Colorful 2D graphics
Easy to play
Unlockable skins and guns
More than 600 levels
Available on mobile devices
Controls
You can use your mouse to play this game.