Play Now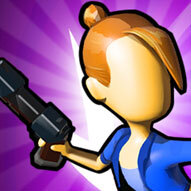 In Bullet Rush Online, you have a big mission! As a successful soldier, you are sent to a dangerous island where you need to get rid of a dangerous virus! Your people need your help urgently, or else the virus will capture them! So, grab your gun and pull the trigger to destroy them! Good luck!
You were chosen for this mission because you are the best sharpshooter and the fastest soldier in the town! One of the islands of your country is surrounded by dangerous viruses, and your people cannot get out of there. You first destroy the virus and then save them! Can you complete this mission without getting killed? Then click on the screen and start the game. You only need your mouse to play this game, click on the screen and click the right mouse button to shoot. As you succeed to shoot them, you will earn money. You can use this money to buy new weapons at upcoming levels. You have 18 levels to complete, and you pass the levels the game will be getting harder and harder. You will face some obstacles as the game gets harder. Your objective is to shoot all the red creatures who are coming towards you and arrive at the plane spot. We will take you to other islands until they will be all cleared. Will you be able to complete this job? Good luck!
If you want to play more shooting games, and try another one similar to Bullet Rush Online, then be sure to check Johnny Revenge, too.
Developer
kiz10.com developed Bullet Rush Online.
Release Date
March 18, 2021
Features
3D graphics
Challenging gameplay
18 levels to complete
Upgradeable in-game items
Controls
You can use your mouse to play this game.