Play Now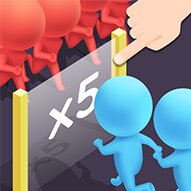 Play with numbers to bring your enemies down with Count Master 3D! Bend crowds and use the deadly power of math to multiply your strength! Equip your soldiers with bows or spears, change their sizes, and clone them to overpower enemy forces! Be careful not to sabotage yourself with your multiplying skills!
Before starting, you can see the limited-time gifts on the main menu. You can watch a short ad to claim one of these skins and start the game with a unique look! Then we can jump into the action! You can see the options of spells you can put on your soldiers. Some of these choices are multiplying or adding to your numbers, while some give your men weapons you can use to get rid of your enemies faster. In addition to these choices, you can see blue potions that give your soldiers a size-up effect, practically turning them into giants. Avoid using these empowering spells on enemy soldiers as they work on them too! Use your powers strategically, place the magical portals in the right spots, and destroy the enemy castles! Face gigantic bosses and complete challenging levels with your math skills!
If you like to alter the terms with the power of four transactions, you can check out Gun Fest and use your superior skills to punish criminals!
Developer
YAD.Com developed Count Master 3D.
Release Date
April 11, 2022
Features
Colorful 3D graphics
Improving transaction skills
Strategical challenges
Available on mobile devices
Controls
You can use your mouse to play this game.