Play Now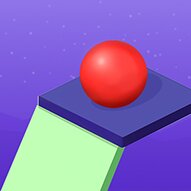 Roll your ball downhills in Crazy Falling Ball! This platform is wholly other than anything you've ever seen, and you won't be able to stop challenging yourself more and more in this fun game. Are you ready to see your limits with the crazy ball in your hands?
This is an amazingly cool game with addictive gameplay and realistic 3D graphics. When you're following the crazy ball falling straight through the platforms, you will feel as if you are flying with the ball. Your aim here is to drop the ball down for as many floors as you can. Once you start the downhill fall of the ball, it is all in your hands to decide which direction the ball will go to. So, you need to click left on your mouse to change the direction of the ball each time that the ball touches the platform. Let's see how long can you keep this exciting fall and what your highest score will be!
If you enjoyed playing Crazy Falling Ball, you should check out our collection of free and online skill games by clicking here.
Developer
OneTwoPlay BV developed Crazy Falling Ball.
Release Date
November 30, 2021
Features
• 3D colorful graphics
• Endless platform
• Intuitive skills
• Relaxing yet challenging game experience
• Addictive gameplay
Controls
You can click on your mouse to change the rotation of the ball.