Play Now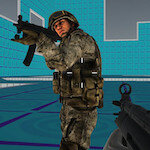 In Crazy Shoot Factory, grab your weapon and be ready to destroy all your opponents! This is an intense first-person shooting game that tests your targeting skills. Featuring different battle regions and various rooms, you can challenge your opponents from all around the world! What you need is to hold tight to your keyboard and keep your eyes on the screen. If you are ready, let the thrilling battle begin!
Put on your war clothes and take the deadly weapons which allow you to target even the tiniest spots in the arena! The objective of this game is to reach at least 150 kills in your battle room to level up. You can create a room of your own, join someone else's room that already exists, or simply click the quick play and get placed in a random room. Use your keyboard to move your character and click to shoot your opponents. You can jump with the SPACE BAR, change your weapon with the "V" key, obtain health with the "H" key, and open a chat with your team by pressing the "T" or "Y" keys. ENTER key will allow you to see the people in the room and their teams. From the main menu, you can change your region where the battle takes place. From the options button, you can modify the game's features as you wish. Good luck and have fun!
Be sure to check our collection of free and online action games to browse more fun titles like this game.
Developer
Hack TheREALITY developed this game.
Release Date
January 23, 2019
Features
3D battle simulation
Online chat room
Creating or joining rooms
Multiple regions to choose
Controls
The arrows to move your character, SPACE to jump, and left-click to shoot. The "V" key to change weapon, the "H" key to obtain medkit, the "T/Y" keys to open the chat.