Play Now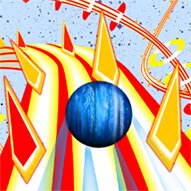 Take a deep breath and let your instincts take control in the radiant world of Crazy Tunnel 3D! Roll down an endless slope while constantly getting faster and dodge incoming deadly obstacles with sharp reflexes! Discover your galaxy on a space track, explore unique platform mechanics, and keep rolling to break a new record!
Get ready for an infinite space rush starting on a track built next to the Sun! Start on Mercury, the planet closest to the Sun, and unlock all the Solar System planets by getting better at your run as a satellite! Adapt to the changing platforms and evolve with the increasing difficulty and complex mechanics! Follow the orbit around the planet of your choosing, jump to avoid crashing into smaller rings while ducking under the bigger ones, and change the rhythm when the platform changes. Start with baby steps, make tens of thousands of points to jump up to the orbit of another planet, and complete the whole system to move on to the Nebula and the Dark Moon. Each planet has a bonus feature; some grant you extra lives, some come with triple points, and some move slower. Try them all out while sharpening your reflexes!
If you like this fast-paced space run, you can check out Two Ball 3D Dark and enjoy another infinite run with changing themes and neon colors!
Developer
No Outlinks developed Crazy Tunnel 3D.
Release Date
May 18, 2022
Features
Nice 3D graphics
Unlockable planets
New maps to discover
Easy controls
Changing platforms
Controls
You can use the arrow keys to play this game.