Play Now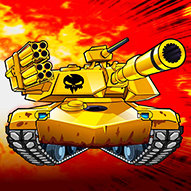 In Dead Paradise 3, you'll find yourself in a post-apocalyptic world filled with dangerous characters. You've been tasked with protecting and escorting people to safety through the dangerous roads. Jump into your vehicle, and load your guns. This is going to be a long ride.
Get ready to face explosions, bullets, and other threats along the way to safety. Your objective in this game is to complete each level by reaching the end without dying. When doing so, you have to defend the other vehicle from the attacks of your enemies. Start the game by clicking on the play button on the main menu and then choosing a save slot. There are many missions to complete in this game. With each mission you complete, you'll earn money. These can be used to unlock new upgrades and vehicles. Keep your eyes on the road, and defeat all your enemies!
If you're looking for a similar game, then you should check our other popular title, Earn to Die. Enjoy!
Developer
SMOKOKO developed Dead Paradise 3.
Release Date
2013
Features
15 different missions to complete
45 different achievements to earn
6 different vehicles to unlock
Various upgrades to buy from the in-game shop
Entertaining gameplay
Intuitive controls
Colorful 2D graphics
Controls
Use the UP and the DOWN arrow keys to move forward and backward, respectively. Use the LEFT and the RIGHT arrow keys to baance your vehicle. Use the Z and X keys to turn your gun right and left. Press the SPACE BAR to launch rockets. Press the C key to dump fuel behind you to burn your enemies.