Play Now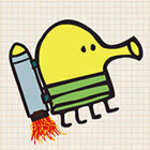 In Doodle Jump, be ready for a fun and endless jumping adventure! As the most played jumping platforms skill game, Doodle Jump is highly addictive gameplay that will make you sit in front of the screen for hours. Apart from being available on mobile phones, you can play this fun skill game on our web browser using your arrows at Yepi! Take your seat, prepare your legs, and get ready to jump!
The most adorable game character, doodle, welcomes you to its jumping challenge! In this fun skill game, your objective is to jump through the green platforms as long as you can and break your scores going higher each time. This is an endless adventure that allows you to play until you decide to put an end! Use only your left and right arrows to direct your character because it starts jumping automatically. As you progress in the game, you will face some obstacles like unstable brown platforms or creepy bugs, making you fall down. But you will also find various boosters like flying hats and rockets, which allow you to fly higher without any effort! You can shoot the bugs by pressing on the SPACE BAR, and if you are flying with one of the boosters, the bugs will be eliminated once you touch them. Good luck there, Doodler!
If you liked this game, you should try another jumping adventure under the title of Angry Gran series Angry Gran Jump-Up
Developer
Lima Sky developed Doodle Jump.
Release Date
January, 2017
Features
2D colorful graphics
Hand-drawn game background
Shooting option to activate
Various power-ups and obstacles
Controls
Use the left and right arrows to move the character and press SPACE BAR to shoot.