Play Now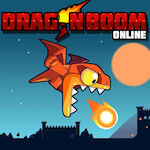 In DragonBoom Online, take the role of a fire breathing dragon and wreak havoc on the world. As one of the most powerful mythical creatures, dragons are a force to be reckoned with. Flap your wings to spread terror in the hearts of the puny humans, and leave a trail of blaze behind you!
The humans have armed against you, but their efforts are futile. As you open your mouth and spread your fires, no one can stand before you. The objective of this game is to complete each level by reaching the big treasure chest in the end. Each level is filled with different challenges, and despite being a winged-fire-breathing menace, you're not immortal. Click on the play button on the main menu to start the game. On the next screen, you can see tips about how to play. Click on the start button to continue to the level selection screen. There are 20 different levels in this game, but you have to unlock them first. To control your dragon, click and hold on the screen, and move your cursor around to adjust the direction you want to travel. You start with 3 lives, so watch out for traps, obstacles, and soldiers. Collect the coins around the levels. You can spend these to buy different hats for your dragon. Enjoy!
Fan of action games? Then you should check our collection dedicated to such titles by clicking here. Have fun!
Developer
kiz10 developed DragonBoom Online.
Features
20 different levels to complete
Colorful 2D graphics
Intuitive controls
5 different hats to buy from the in-game shop
Controls
You can use your mouse to play this game.