Play Now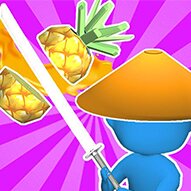 Your master skills with swords are greatly needed to save these poor girls kidnapped and cornered on a deserted island in Draw & Slash! Improve your puzzle and planning skills while protecting the innocent! The world needs your brain, brush, and sword; can you slay the mobsters and save the innocent?
You are a ninja with senses and speed on another level. You don't walk or fight; you just close your eyes, take a deep breath, use an imaginary brush to mark your path, and it will be over before you know it. This is how you will be ruling these islands too. Every level consists of three pieces of land tied together via narrow wooden bridges. The first and third islands are always crowded with criminals and their victims, while the second islands hold treasure chests waiting to be looted by you. Use your brush to plan the path your will slice through, but be careful not to kill any of these innocent girls. You have to kill all the bad guys in one line. This rule goes with the chests too; mark all the chests with one brush stroke and collect the gold! Can you save everyone and bring justice to these forgotten lands?
If you like this fun drawing puzzle, you can check out Love Dots and use your drawing skills to bring lovers together!
Developer
Bermuda Games developed Draw & Slash.
Release Date
April 11, 2022
Features
Colorful 3D graphics
Easy to play
Simple and addictive gameplay
Improving strategy skills
Controls
You can use your mouse to play this game.