Play Now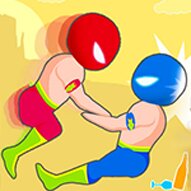 In Drunken Wrestle, prepare for an epic battle and an exciting two-player adventure that will keep you and your best friend hooked to the screen for hours! It's time to go head-to-head with the rules of physics! To win this game, you'll need to use your expert wrestler skills! Are you ready for a thrilling battle? Who will win handily at the end of the game?
Sometimes you win, sometimes you learn! Wrestling is one of the most ancient forms of combat. Do you know that cave drawings date back 15,000 years to the roots of wrestling? Yes, you read that correctly. It's a long-standing custom. This time, we've made it available to you in an online version! Are you ready to go toe-to-toe with your opponent? Let's get right into it! By pressing the up arrow, you must defeat your opponent. The person who wins all five rounds is the winner. The transparent stars, which represent both players, can be seen on the left and right tops of the game screen. Your star will appear there when you win a round. Of course, you can play against the computer as well! Respect your opponent, but don't be afraid of them! Because without the struggle, the result isn't as good! Good luck!
If you want to play more 2 player games, and try another one similar to Drunken Wrestle, then be sure to check Castel Wars, too.
Developer
RHM Interactive developed Drunken Wrestle.
Release Date
July 1, 2021
Features
2D colorful graphics
1 Player and 2 Player modes
Endless competitions to enjoy
Fun and engaging gameplay
Controls
Player 1: Use the up arrow. Player 2: Use the "W" key.