Play Now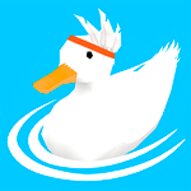 In Ducklings.io, get ready to build your own duck empire! Dive deep into the lake and discover the world around you by yourself or with your friends. Are you ready to challenge others and see if you can be the king of all ducks?
Welcome to the lake! Get away from civilization and become a part of nature. Sit back, chillax, swim around the lake, and have fun! Your objective is to build a nest for you and your partner and grow it to have the biggest nest. To control your duck, you can use the WASD keys, arrow keys, or the mouse. Swim around and collect all the ducklings you can find. Lead them to your nest to upgrade your nest and get hats. The more ducklings, the better! Who knows, you may get a windmill, school, or even a golden statue of yourself. There are also other ducks in the lake that are collecting ducklings. Keep in mind that if you steal from them, they will try to steal from you too. Even though the atmosphere is relaxing, there is just no getting away from humans. Keep away from sailboats and rowboats. If they crush you, the game is over. You can also play this game with your friends if you want. Enjoy!
If you are looking for more games to play in the kingdom of animals, check out Parrot Simulator. Have fun!
Developer
Pelican Party Studios developed Ducklings.io.
Release Date
June 18, 2021
Features
Online multiplayer gameplay
Suitable to play with friends
Nice 2D graphics
Fun and addictive gameplay
Controls
You can use your mouse, the WASD keys, or the arrow keys to play this game.