Play Now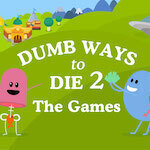 In Dumb Ways to Die 2, continue to explore the grim reality of death with a cheerful and goofy approach. Featuring more different and new challenges from the previous game, get ready to wink in the eye of the danger and survive. Do you have what it takes to help these cute character survive the many dangerous ways to die?
Your objective in this game is to complete mini-games without dying. You can play the game with your mouse, so click on the play button on the main menu to start. On the next screen, you'll see the map. There are 4 different areas you can visit, and each has a different theme with different games. To visit one, click on it. You'll see a preview screen of the games available in the selected location. In each game, you try to stay alive by acting on time. For example, you should click on the screen to avoid getting eating by sharks while waterskiing in one of the games. You have 3 lives when you start and lose one each time you die. When you run out of lives, the game ends and you'll receive your final score. In the map view screen, you can check different achievements you can earn by clicking on the trophy button in the top right corner of the screen. Have fun!
If you enjoyed playing this game, then be sure to check the first title, Dumb Ways to Die: Original.
Developer
Metro developed Dumb Ways to Die 2.
Release Date
November 14, 2014
Features
4 different areas
Colorful 2D graphics
Funny animations
Entertaining gameplay
Controls
Use your mouse to play Dumb Ways to Die 2.