Play Now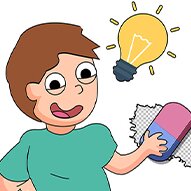 Are you ready to do some crazy detective work in Erase It? This game is not quite like any other, and we are sure you won't be able to stop playing it. Take your magic eraser in your hands and try to get everything in order now!
Get ready to enjoy solving many problems. But we assure you that solving problems have never been more fun! You have a magic eraser in your hand. You can use this eraser to make some modifications to the pictures that have some faults. Something is off with these pictures. Sometimes it is very obvious, and sometimes it is a little hidden. But either way, you are told in the description part above each picture what is missing in or wrong with that picture. You should first get the gist and then make some modifications to the picture. Let's see for how many levels will you make things get in order!
If you enjoyed this interesting game and want to see some other games like this, you should check out DOP 2 Delete One Part, too!
Developer
OneTwoPlay developed Erase It.
Release Date
December 03, 2021
Features
2D colorful graphics
Multiple levels
Intuitive controls
Unique gameplay
Interesting riddles to solve
Controls
You can use the mouse of your computer to intervene with the pictures.