Play Now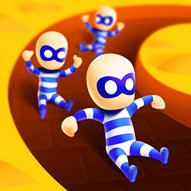 In Escape Out, get ready to plan a prison break and prove you're a mastermind! Escaping the clutches of the police isn't easy for sure but with your extraordinary ideas, these prisoners are sure to break out of prison. Can you help them on their quest to find freedom?
Is there anything worse than losing freedom? No, at least not according to Sirius Black. And we totally agree with them. To be free men again, all they have to do is to dig an escape tunnel underneath the prison. An original plan, isn't it? We're sure you've never heard it before! You must help them run away and avoid getting caught. Don't even think about what the cops will do to you if you get caught and focus on the plan. Use your mouse to dig the ground and help them reach the truck waiting for them at the end of the road. While you're digging, you'll find others who failed this mission. Help them out and make sure they reach safety too. The best thing about the location of the prison is for sure the treasure lying underneath it. You'll find gems, money, and treasure chests that can allow you to buy better trucks. Good luck and may the odds be ever in your favor!
It's one thing to be a prisoner but completely another thing to be held prisoner by aliens! Play Space Prison Escape now by clicking here and help our heroes escape.
Developer
Developed by BPTop.
Release Date
September 1, 2020
Features
Different levels to complete
Treasure to find
Trucks to buy
Fun gameplay
Controls
Use your mouse to play.