Fireboy & Watergirl 6: Fairy Tales
Play Now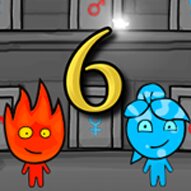 Fireboy&Watergirl 6: Fairy Tales welcomes you to the brand-new adventure of this amazing game series! We guess you are already familiar with our heroes. A girl who can survive anywhere filled with water and a boy who brings the flames with him. They are only one step behind you! All you need to do to reach them is get your buddy with you and click on the play button right away!
The spirit of jumping into a fairy tale has already surrounded all around you, right? It is the feeling of something quite amazing! You are about to take a road to a whole new adventure where nothing is certain. But don't worry! Our watergirl and fireboy will be with you all the time! You can experience this adventure with a friend and share the keyboard while controlling our heroes. You can also become the hero who controls everything that is going on in the game! These are the basics of this fun 2-player game series, as you know. What you don't know is that we have other characters that you should be controlling in this new game. You will encounter shining fairies. Control them by using your mouse to unlock the doors and gates. More hands can't hurt! Collect all the gems, pass through the doors and complete the levels by overcoming every challenge! Have fun!
Looking for other adventures to go on with your buddy now? If so, be sure to check our collection of free and online 2-Player games by clicking here to browse more fun titles like Fireboy and Watergirl game series.
Developer
Septimaniac developed this game.
Release Date
September 29, 2021
Features
30 levels to pass
Two-player gameplay
You can also control both characters by yourself
Addictive puzzle levels
Controls
Use the arrow keys to control Fireboy. Use the WASD keys to control Watergirl.