Play Now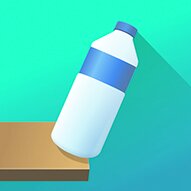 Flip Bottle is a hilarious game of balance and reflex that takes the fabulous idea from an internet challenge. In this fun and harmless trend, people challenge others to throw full plastic bottles and make them land on their caps. Of course, it is almost impossible to achieve on the first try if you don't have superhuman powers or steel reflexes. Well, this game gives you both!
Look, it's someone's living room in which you are soon going to test your balancing skills! This cute and peaceful environment with pastel colors has one purpose: to make you feel at home to make this mission easier. You can see the bottle on the starting platform. As you can tell; you have to flip it from one tv unit to another shelf until you reach the finish line. You can double jump if that's necessary, but don't forget that you cannot change the lengths or heights of your jumps. Some platforms tilt after you touch them, so you cannot trust the ground you are standing on. Just think fast, try not to stay on something for too long, and finish the run as fast as you can! Do you have the skills to go viral?
If you like this addictive hypercasual challenge, you can check out Zik Zak to test your patience!
Developer
BPTop developed Flip Bottle.
Release Date
October 30, 2019
Features
Nice 3D graphics
Simple controls
Rewarding mechanics
Fun and addictive gameplay
Available on mobile devices
Controls
You can click on the screen to flip the bottle.