Play Now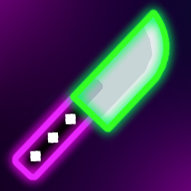 Flippy Knife Neon is an amazing skill game! Get ready for the dance party where the neon knives are the dancers! Don't worry! they are not sharp knives. You just need to help them roll in the air to stab them at the dance floor!
Playing with knives sounds dangerous in real life, but in this game, it is the only thing that you should do! You aim in this game to get the highest score by flipping knives as many times as you can on the air. You can play the game with your mouse, click on the play button to start the game. Simply click and drag your mouse onto the screen to throw a knife, and once the direction of your shot is ready, release your hold. Based on the strength of the move, the knife will spin around in the air. When you can't stab the knife to the dance floor, the score is reset. You earn points depending on the flips. If you can manage to stab the knife to the floor, you can throw it again to get points. As you play, you get coins, and with these, you can unlock different knives in-game shop. If you feel ready, start the game! Good luck!
If you want to try another game similar to this one, then be sure to check Stack Colors! by clicking here.
Developer
kiz10 developed Flippy Knife Neon.
Release Date
June 11, 2020
Features
2D graphics
Multiple knives to unlock
Intuitive gameplay
Entertaining gameplay
Controls
You can use your mouse to play this game.