Play Now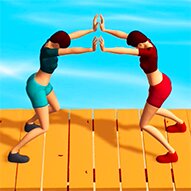 Push your enemies off the bridge in a hilarious food race with Food Pusher Challenge! Collect and bring the healthiest food to your champion sheep to win the championship! Team up in twos and pick up the most quality stuff for your teammate, avoid obstacles that slow you down, and push them off the platform before they win!
Do you know the story of two stubborn goats? In the original story, they get tangled in each other's horns, and both fall off the bridge, but you will rewrite this story today. One of the goats will cross the bridge, and you will have a role in it. Your mission is to feed the goat on the left so it can get fatter and stronger and push the other goat off the edge. It will not be that easy though; you must pick up the healthy food on the arena and take them to your teammate. Stay away from fast food, banana peels, and the unexpected moves of the other team. Both players can cut each other's ways, making them fall and drop their loots. Unlock new food and character skins to use in this hilarious and addictive race!
If you like this fun challenge, you can check out Plug Run Race and witness the daily struggles of a plug athlete!
Developer
PL Studio developed Food Pusher Challenge.
Release Date
June 9, 2022
Features
Colorful 3D graphics
Easy to play
Character and food skins
Unlockable boosters
Available on mobile devices
Controls
You can use your mouse to play this game.