Play Now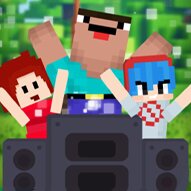 Our dorky friend Noob has finally found himself a place to freely show his colorful side, and with Friday Night Funkin Noob, you are invited too! Wear your disco shoes, dress to impress the crowd, and get ready to destroy your opponents on the dance floor!
The night that you have been practicing for has finally arrived! Tonight, you can show your master-level boogie skills and rise to the throne of the disco king! But first, you need to warm up your knuckles. Turn up the music, turn it up louder, and let's shake the daily stress off! Start with the easiest levels, and slowly prove your worth under the spotlight. Follow the instructions and place your hand over the arrow keys. Keep your eyes on the incoming arrows and press the same button as the next arrow at the right time. You can see how well you are doing at the bottom. The greener the bar is, the further you are from failing the level. Don't let the first few weeks fool you though, once you get past the tutorial stages, the real show begins. Can you stand against the power of music and become the disco legend?
If you like this fun contest, you can check out Friday Night Funkin Hugie Wugie and play with Hugie Wugie!
Developer
kiz10.com developed Friday Night Funkin Noob.
Release Date
May 19, 2022
Features
Famous characters
Improving skills
Funky music
Easy to play
Available on mobile devices
Controls
You can use the arrow keys to play this game.