Play Now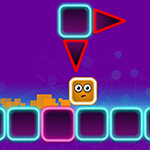 In Geo Dash, 5 different worlds and difficult levels await you. In this platform arcade game, you'll have a chance to test and improve your reaction speed to dangerous things. Do you trust yourself to overcome the challenges in each difficult level and live to tell the stories of your great adventures?
Hello, stranger. It's another day and emerging threats are waiting for you. In this game, your objective is to jump your way through the multiple levels of this game to reach the finish line. There are 5 different worlds to play through and each has 10 levels. To beat this game, you have to jump each time you see something blocking your way. If you hit red spikes or other blue squares, we'll see you on the other side! The game difficulty gradually increases and you'll face portals that will allow you to move upside down. And sometimes, you'll need to constantly jump to avoid dangers. You can jump by clicking the left mouse button. And you can see how far you've reached in each level at the top of the screen. Keep going until you reach the end of the level. Be there or be square!
It seems like you can't get enough of this game. Then be sure to check out Fire and Water Geometry Dash and control both fire and water. Have fun!
Developer
Developed by Dominick Bruno.
Release Date
January, 2018.
Features
50 levels to complete
Different worlds to unlock
Colorful neon graphics
Fun gameplay
Controls
Use left mouse button to play this game.