Play Now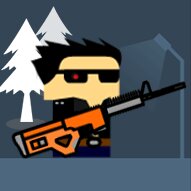 In Gunner, aim well or suffer the consequences. You are about to walk into a building full of enemies. If you want to live to tell the tale, you only have one thing to do. Shoot them up and make sure no one in that building is alive to oppose you. So, who are you going to be? Hunter or hunted?
It's time for your enemies to meet their master. They have been underestimating you all this time. Now, walk into the lion's den and show them that you should be the one who is feared, not the other way around. Your objective is to shoot down everybody by aiming at the right time. In each level, you'll face various enemies. You need to kill them all to fill the bar on the top of the screen. To shoot them down, you need to watch the gun carefully, and when the muzzle points at your enemy, shoot. Don't miss because you won't get another chance. At the end of each level, you'll face the boss whose name is underlined in red in your list of people to kill. Get rid of them to reach the next level. For each enemy you kill, you'll earn coins. Use these coins to buy new skins and guns. Have fun playing!
There are more enemies hiding in other buildings. Now that you have survived this mission, play Agent Gun and destroy more!
Developer
Agame developed Gunner.
Release Date
June 02, 2021
Features
New skins and guns to unlock
Many different bosses
Challenging levels to complete
Fun and addictive gameplay
Controls
You can use your mouse to play this game.