Play Now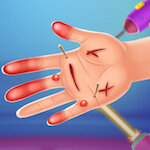 In Hand Doctor, come people made bad decisions about what to touch, and now they're sitting and waiting at the waiting room as your patients. As the best doctor in the city, can you heal all your patients and send them home happy?
Prepare your tools, because it's going to be a long workday. Your objective in this game is to treat the hands of each of your patients. Being a doctor is a hard job, but with the simple controls of this game, you can overcome any challenges this profession throws at you. To start the game, click on the play button at the bottom of the main menu screen. Then, pick one of the 6 different patients to begin. First, you should handle the palm of your patient. Use the tools at the bottom of the screen. Take the broken glass away, apply plasters to cuts, and use ice to calm down the redness. Once done, you can work on the back of the hand. Use the tools again. Use the x-ray to treat the bones, and lastly, focus on the nails. Use the clippers to cut the overgrown nails, get rid of germs, and remove the cuticles. Now that's what a healthy hand looks like! Enjoy playing.
Beauty is in the eye of the beholder. Take care of your patients' eyes in our other popular game, Eye Doctor. Have fun!
Developer
Vseigru.net developed Hand Doctor.
Release Date
December 28, 2018
Features
Colorful 2D graphics
6 different patients to take care of
Entertaining gameplay
Different tools to use
Controls
You can use your mouse to play this game.