Play Now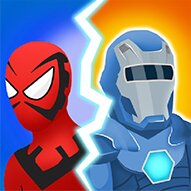 Unlock amazing special powers, face more enemies and increasing difficulty, and combine four incredible super attacks of your choosing in your body in Hero Masters. Run over the remains of a sunken city and hit the bad guys running your way. Stun and push them into the water or directly inflict damage.
You start with a high-range spider web attack that you throw at your enemies and stun them. These attacks also apply a force on them, pushing them backwards. Keep attacking constantly, because they will start running back at you as soon as they get up. Once in a few levels, you earn enough gold to unlock a new attack type and get to choose between damage types. Arrows deal instant physical damage while lasers do it continuously. That means you have to click every time you want to throw an arrow, but click once and keep holding while attacking with lasers. Meet new enemy types, come up with new strategies against every one of them, and blow up flammable items on the platforms to damage your enemies faster. Earn more gold by watching shot ads, and unlock new attacks with your money. Try every power and create yourself an attack deck.
If you like heroes, you can check out SuperHero.io and become one in a world full of your kind!
Developer
Brosco Games developed Hero Masters.
Release Date
March 14, 2022
Features
Colorful 3D graphics,
Easy controls
Unlockable special powers
Different enemy types
Available on mobile devices
Controls
Use your mouse to choose your power, aim, and shoot.