Play Now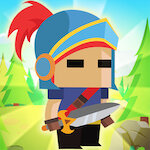 In Heroic Quest, travel back to the medieval times and go on a journey of a lifetime! Youre a brave young knight and like all the other knights you have to prove your valor! A knight is expected to be skilled in combat! Its time to prove yourself worthy! Are you ready to become a legendary knight whose enemies tremble in fear at the sight of you or perish without leaving behind a legacy?
Were in medieval times now and theres danger at every turn. Its your duty, courageous knight, to destroy your enemies and have your name written in the history books! You must go on a perilous journey and defeat your enemies! You can choose between 3 characters: the hunter, the berserker, or the swordsman. In this endless battle, you can kill your enemies with the left mouse button. Move around with the arrow keys and use the space bar to jump. As the game progresses, you begin to face more challenging foes. You can avoid their attacks by jumping. Youll also get some power-ups along the journey and theyll help you cleanse the evil from your land! Dont forget to collect coins and use them to upgrade your heros abilities. Try to reach the end of the journey and battle the boss! That is the only way to save your people! Get ready brave knight, for a most dangerous journey!
Do you like taking part in adventures and proving yourself worthy? Then be sure to check our collection of online action games by clicking here to browse more fun games!
Release Date
September, 2018.
Features
Fun gameplay
Different characters to choose
Nice graphics
Intuitive controls
Controls
AD or left/right arrow to move. W or space bar to jump. Left mouse button to attack.