Play Now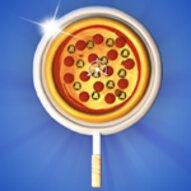 Get your hands on the dough rolls now in I Like Pizza! Your favorite food on earth might be pizza and you would only be right to have such a favorite. Now, you have the chance to dive into the process of making and selling your own pizzas!
Here is a fun simulation game for you. You will be acting as the operator behind the most important machine in a pizza place. This way, you will be able to witness each and every detail regarding pizza production. Simply use the cursor to move the rolls of pizza dough and let them slide through the factory band. Through this band, you will see many different machines that do different important things like spilling sauce and adding toppings. In the end, your aim is to have baked as many pizzas as possible. The more the pizza you have, the more the money you will earn will be. With the successful levels, you can enlarge and improve your bistro for better gameplay, too. Now, let's see how good you will be as the boss of a pizza place!
If you enjoyed this tasty game, you should also check out Yummy Cupcake to bake delicious cupcakes!
Developer
2Play developed I Like Pizza.
Release Date
January 27, 2022
Features
• 3D colorful graphics
• Multiple levels to complete
• Entertaining and addictive levels
• Intuitive controls
Controls
You can use the mouse to move the dough trays and get the collectibles.