Play Now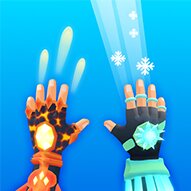 In Ice Man 3D, are you willing to stand by the icy superhero as he saves the city from the gangsters? Use your icy strong powers to overwhelm your enemies and shatter them into countless pieces! Good luck!
The bad guys are here! They will try to disturb the citizens! As the superhero of this town, you need to stop them before they reach their goal! If you are ready to save the town, click on the play button to start the game. In the palm of your hand, you have all the power you need. Simply put on the magical gloves, which give you the ability to freeze and fire enemies. At each level, your goal is to freeze and destroy opponents in order to restore safety to the town. Your enemies will attack in huge numbers, but none of them will be able to defeat you. If you don't freeze them before they get to you, you won't have another chance. After you've frozen them all, you'll be able to use the second glove to change the ice blocks into water. You'll gain gold after each level, which you can spend to purchase new skins. You'll also be given additional abilities to use whenever the threat becomes too high. Best of luck!
If you want to play more superhero games, and try another one similar to Ice Man 3D, then be sure to check SuperHero.io, too.
Developer
YAD.Com developed Ice Man 3D.
Release Date
June 28, 2021
Features
Unlockable new skins
3D colorful graphics
Rewards to earn
Fun and addictive gameplay
Controls
You can use your mouse to play this game.