Play Now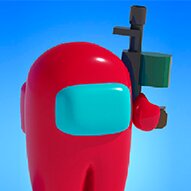 Play as Steve and kill your evil clones in Imposters 99! You were in the mission spaceship with your crew, but they all turned out to be clones, and you had to kill them all! Now you move from ship to ship and keep cleaning them by shooting all the clones that infested the space!
You automatically shoot without a break, so all there is left to do is keep your enemies close, but not that close. Move with your arrow keys, get them in your range, and start running! Run around in circles and be careful about vents, because more enemies can come out of them and attack from your back! The enemy numbers will increase, their attacks will get stronger, and you will have traps waiting for you in arenas as you advance through levels. Make sure you have collected all keys before stepping into the portal to the next level. When you have collected three of these keys, you will get to open three treasure chests with random amounts of gold and character skins in them. You can also use the gold you have earned to unlock more skins. Make it through these evil robots, and face difficult and terrifying bosses every ten levels!
If you like shooting down your enemies, you should check out Battledudes.io and use your skills with guns at other players!
Developer
Brosco Games developed Imposters 99.
Release Date
February 24, 2022
Features
Colorful 3D graphics
Easy to play
Unlockable skin options
Available on mobile devices
Controls
You can use the arrow keys to play this game.