Impostor Warline 456 Survivors
Play Now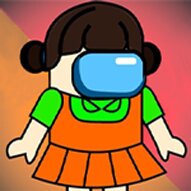 It's time to witness the Squid Challenge from the opposite side with Impostor Warline 456 Survivors! The players are not so innocent this time; they are all impostors with guns trying to attack you! But no worries; you can improve your stats if you can survive their attack waves!
Get ready for impressively various enemy types you will soon be facing! There will be kamikaze impostors, low and high range shooters, and some bone-throwing enemies beyond the line. But you have the power and ambition to beat them all! This tower defense gem merges two world-famous survival games and creates a highly detailed strategical warzone. You can move up and down while shooting at your enemies non-stop, but your attacks will get noticeably slower after the reload bar you see on the top drops to zero. The best strategy here is to hide behind the rocks and give your man a few seconds to reload before starting to shoot again. Defeated enemies earn you gold at every wave, and with that gold, you can upgrade your attack and defense stats like total health, ammo, damage, and special abilities between games. Get stronger with every wave of attacks, and get your character ready for what is next!
If you like this game, you can also check out Slime Rush TD 2 for another tower defense with cute little jelly enemies!
Developer
TapTapking.com developed Impostor Warline 456 Survivors.
Release Date
March 4, 2022
Features
Colorful 2D graphics
Easy controls
Developing strategy skills
Improvable attack and defense abilities
Available on mobile devices
Controls
You can use the up/down arrow keys or "W, S" to move and the left click to shoot.