Play Now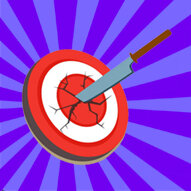 In Knife Master, it is time to find out if you have the eyes of a hawk. Only those with great attention to detail and hand-eye coordination skills can be successful at this game. If you think you are one of those people, get ready to take the challenge. Just how far do you think you can go?
Attention: no violence involved! Knives can also be great tools for some sports. If you are a fan of darts and knife throwing games, this is just the perfect game for you. In this skill game, your objective is to hit the targets and earn a high score. All you need is your mouse to play this game. Just click on the target and the knife will land on it. Each time you break a target, you earn a point. Click on the bull's-eye to earn 2 points. The game will start easy but as you progress through the game, you will begin to face more challenges. The targets will begin to move around the map, and it will be harder to hit them. Keep in mind that when you miss a target, you lose. You will have to start all over again. That's why don't throw a knife until you are sure. Have fun playing!
If you are looking for a similar game to this one, you can check out Flippy Knife Neon. Enjoy!
Developer
MarketJS developed Knife Master.
Release Date
May 12, 2021
Features
Nice 2D graphics
Intuitive controls
Endless gameplay
Many target boards to hit
Controls
You can use your mouse to play this game.