Play Now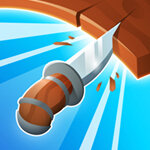 In Knife Spin, prepare yourself for an entertaining and challenging throwing the knife experience! Even if this game is a lot of fun on screen, it's an experience you should never try at home! Grab all of your sharp knives and trust your eye and hand coordination skills. Get ready now for testing your agility to feel the 19th century!
Targeting can be dangerous sometimes, especially if you are aiming with a sharp knife! But in this fun skill game, there is no danger you should worry about. Your objective is to break the spinning round planks by throwing a necessary number of knives and pass to the next level. This fun skill game provides you two game options as classic and endless. In the classic mode, you are supposed to achieve 4 stages by throwing a certain number of knives to pass to the following level. In this mode, you will find fruity boosters to help you pass the level. In the endless mode, your goal is to throw as many knives as possible to make a score without passing any level. You can change your theme from morning to night in the endless mode. In both modes, you have only 3 chances to miss a hit. If you fail, you restart the game. If you are ready, let the game begin!
If you want to try another game in which you can test your agility not by throwing but slicing this time. To start the adventure, be sure to check Fruit Slice.
Developer
Huz developed Knife Spin.
Release Date
October 3, 2019
Features
3D colorful graphics
2 game options to enjoy
Fruit boosters to aim
Theme option to change from morning to night
Controls
You can play this game with your mouse.