Play Now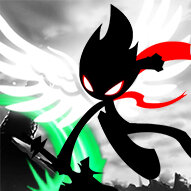 In Stickman Rusher, let's join the stickman rusher on a long journey against the evil boss! You will control the sword of the furious Stickman! Let's jump in the game and see if you can win against the enemies or not! Good luck!
A lethal warrior who is known as a furious Stickman now starts the battle in a world full of dark enemies! And you are the one who will control his sword! He has the power to beat the enemy but still needs your help to fight with many enemies and reach the Final Boss who intends to dominate the world and destroy it. Do you think you are able to help him defeat the enemy? Then start the game by clicking on the play button. Your objective in this game is to survive the endless run and destroy enemies while collecting gems to upgrade your weapons. And your end goal is to destroy the Final Boss. Use the arrow keys to jump and the space bar to attack. To win this war, you have to kill them all without being caught by the obstacles on your way. You can follow your score and the number of your gems at the top of the screen. Are you ready to beat the enemies and reach the Final Boss? Good luck!
If you want to play another stickman game, be sure to check Stickman Maverick, too.
Developer
kiz10.com developed Stickman Rusher.
Release Date
February 17, 2021
Features
Adventurous game
Missions to complete
2D graphics
Challenging gameplay
Controls
You can use your arrow keys to jump and the space bar to attack in this game.