Play Now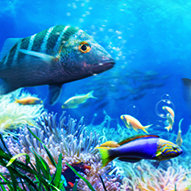 In Let's Fish, it's time to put your feet up, sit back and unwind. In this fishing game, you'll have the chance to enrich your life and enjoy outdoor activities. From now on, your favorite hobby will follow you everywhere in your pocket. Are you ready to take this oppor-tuna-ty and delve into the blue?
Welcome to one of the most popular fishing games in the world! We promise this game will hook you in and you'll want to play for hours on end. If you're ready to sink your hook into the fish, let's go! Your objective is to cast your line and pull until the fishing rod reaches the circle the arrow is pointing to. To do this, you have to pay attention to the scale and make sure it stays on green. Every time you level up, you'll unlock new bait types to attract different types of fish. You'll also be able to buy different kinds of equipment in the store. Let's Fish has everything that an angler needs: rods, hooks, lines, reels, and landing nets. There are over 60 locations where you can wait for small fish, and big fish to come and take the bait. There are also over 650 species of fish to lure in. With the equipment and fish baits you have, it'll be easy for them to fall for it hook, line and sinker! You can take part in tournaments, and also invite friends to play.
You've proven that you're an expert angler. Check our collection of online skill games and let's see if you're good at other things as well.
Developer
Developed by Ten Square Games.
Release Date
September 14, 2020
Features
Multiplayer gameplay
Differents tasks to complete
Over 60 locations
Different kinds of equipment
Controls
You can play with your mouse.