Play Now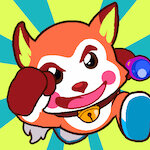 Welcome to the colorful world of Magi Dog! This magical world might mesmerize you at first but there are also dangers that lurk around every corner. You dont believe us? Just imagine a world where slugs and rabbits present a danger to your life! Yeah, we would heed the warning if we were you! Are you ready to dive into the world of this cute dog and help him out on his journey?
Dogs are the cutest, we know that but try telling that to the dwellers of this world! They really dont want to see him, and they stand guard to not let him pass to the next level. But little do they know that youll be there to help him. They really dont stand a chance! Your objective is to complete each level by avoiding your enemies and traps! You have to overcome each obstacle to reach safety. Be careful not to touch other animals or traps or youll have to start all over again! Are you tired of the animals that dont let you pass! Easy! Just jump on them twice and that will solve the problem! Collect gems and coins while youre playing. Coins will allow you to unlock different characters. Are you ready to face evil bees, slugs and rabbits for 18 levels? Off you go then!
But wait! We dont want you to leave, we like you here. You should check out our collection of free and online action games to play more fun titles like this one!
Release Date
September, 2018.
Features
Different characters to unlock
18 levels to complete
Nice 2D graphics
Entertaining gameplay
Controls
Use the arrow keys to control the character. Press the up-arrow key twice to double jump. Use space bar to perform an attack.