Play Now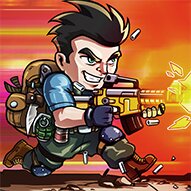 Dive into a deadly world of explosions and guns and try all the risky moves you see in action movies with Metal Black Wars! Hold onto your gun and rush into the enemy's base with nothing but your gear! Jump and duck to dodge enemy attacks and move toward the boss fights like the invincible warrior you are!
We heard your cries for more old-school action, and we offer you everything an action game can offer! Endless choices of guns, rifles, melees, bombs, and a wide selection of enemy units! What starts with a helicopter entrance shall end with only one survivor, and that survivor will be you! Follow the game guide to meet your one royal friend: your rifle. Learn the ways to buy and upgrade gear, and equip the best items to increase your chances of survival. Start the first level and face the enemy for the first time. There is an army waiting to destroy you once you step into their boundaries. Do not leave a single enemy alive while passing through their land. Face the toughest level bosses after each chapter and show them your worth! Get paid for your hard work and buy new guns with higher damage rates to increase your stats!
If you like this addictive adventure of guns, tanks, and helicopters, you can check out our other Action Games and find more games like this!
Developer
Hihoy developed Metal Black Wars.
Release Date
July 22, 2022
Features
Good 2D graphics
Rich explosion effects
Weapon and gear options
Upgrades
Unlockable items
Difficult boss fights
Controls
"W, A, S, D" to move, spacebar to jump, "J" to shoot, "K" to throw a grenade, "L" to heal, "R" to reload.