Play Now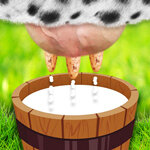 In Milk the Cow, wear your boots because we're visiting the ranch! Milk is delicious, tasty, and a healthy food. Pay a visit to the cows in this game, and try your hand at collecting milk as fast as you can. With you on the job, the market will never run out of fresh milk!
The cows are ready to be milked and many buckets are waiting to be filled. If you believe you have the fastest hands around, then start playing now! This game features 2 different modes, each with their own objective. The first mode you can play is the single-player game. In this mode, you try to fill the tank as fast as you can before you run out of time. Pick yourself a time limit and smash those buttons to fill all the buckets. Your time is located at the top of the screen, so keep an eye on it. The other mode is the 2-player mode in which you can challenge a friend. Just like the previous mode, you try to fill the milk tank but before your friend fills theirs. Hit the keys as fast as you can, and make sure every drop counts! Good luck!
Do you enjoy playing against others? Then be sure to play our other popular game, Basketball Stars. Have fun!
Developer
Hihoy.com developed Milk the Cow.
Release Date
July 5, 2019
Features
Colorful 2D graphics
Challenging gameplay
Intuitive controls
Two player game mode
Controls
In single-player mode, use the A, S, J, and K keys to milk. In 2 player mode, the first player can use the A, S, D keys while the second player can use the J, K, and L keys to play.