Play Now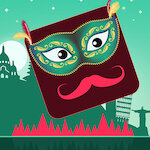 With Mirror Dash, be prepared for a mystic adventure taking place in two different dimensions! To achieve in this game, you should be good at multi-tasking and making quick decisions. You are about to travel across 5 beautiful countries, but there is a difficult way ahead. You need to finalize your trip by either jumping on the obstacles or teleporting to the mirrored environment. Do you have what it takes to reach your final destination?
Traveling from Egypt to Britain may sound really fun. But with these obstacles on your way, it is going to be a long journey. This fun skill game will challenge your decision-making skills at their best. The objective of the game is to complete 100% of each journey. To do so, you need to avoid every obstacle either by jumping over them or teleporting to the opposed environment. You can simply use your mouse to play this game. Left-click allows you to jump and right-click makes your character teleport under the ground. You can jump on the square obstacles to go higher if it is necessary. You do not have to complete one journey to pass to another one. Start with any country as you would like. Good luck and have fun!
To try another game to test your different skills with a lot of fun like in this one, then be sure to check Popcorn Box by clicking here.
Developer
Novo Games developed this game.
Features
3D colorful graphics
5 different country to travel
5 funny characters to control
Entertaining and addictive gameplay
Controls
Left-click to make your character jump and right-click to teleport to the mirrored environment.