Play Now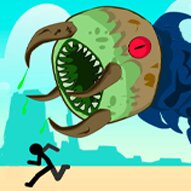 With Monster Underground, eat everything that crosses your path! We are living in a world of monsters and creepy creatures. Luckily, you are one of them! You should get scared of nothing. You are the powerful, evil one in this adventure. Eat all the people without a second thought. Increase your life bar by destruction and blood. You can also collect the life indicators if you are too naive! Are you ready for this rush? If so, let the game begin!
You could have been anything so far. A superhero, for example. Or maybe a vigilante? But you have become an underground monster! Your mission? Eating everything! In this amazing action game, your objective is to eat literally everything you see. When you start the game, you will find yourself under the ground. Use the keyboard arrows to change direction. Your character will be moving automatically. When you get close to up, the monster jumps and eats all the moving things. You will find some animal bones under the ground. Eat them as well to increase your life bar. Collect the hearts and accelerations. As you proceed in the game by completing levels, you will unlock new areas. You can also evolve your monster from the in-game shop with your earnings! Be careful about the rockets and helicopters! Good luck and have fun playing!
It seems you pretty much enjoyed being a monster! If so, then we have another adventure for you! Be sure to check Jump Monster by clicking here.
Developer
kiz10.com developed Monster Underground.
Release Date
July 30, 2021
Features
2D colorful graphics
Several levels and goals to complete
In-game shop to unlock new skins
Fun and engaging gameplay
Controls
Use the keyboard arrows or touch controls to play this game.